change your voice in Skype call
AllinOne Voice Changer
All-in-One Voice Changer is an interesting application for Windows. It is based on
Skype Voice Changer
, thus they have the same interface. It can not only change your voice in Skype call, but also in Yahoo Messenger or QQ International call. You can also import a recording and change the voice pitch in it.
Top
Features!

Prank Call to Play on IM Tools
Most people use All-in-One Voice Changer to play prank calls on friends. This software will help you to make a good laugh!

Optimized Voice
Have you ever dreamed to have a magnetic voice? All-in-One Voice Changer will help you to make it true in online calls.

Voice Recorder
Want to make a copy of the funny voices? With a microphone, you would be able to change and save the funny voices locally!
Multiple IM Tools Supported
All-in-One Voice Changer supports not only Skype, but also Yahoo Messenger and QQ International for online voice changing.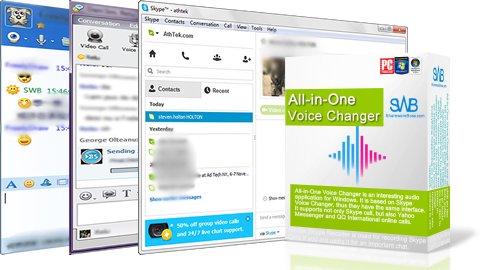 Buy Today and
Enjoy It Right Now!

The functions are based on Skype Voice Changer.
Supports more IM tools other than Skype.
Lifetime free updates & technical support.
30-days full money back guarantee.
Testimonials
There are 4 different voice styles for you to choose from: male voice, female voice, cat voice and dinosaur voice. Moving the slider to any of those will automatically change your voice.
Wilfred Mayland, Editor of Download3k
I'm a regular customer of another AthTek Software - the Skype Recorder. It's really impressed. So when this new voice changer came out, I couldn't wait to try it. After I tried, I have to say, it's the one I need!
Jonathan Atkinson